This is my first Thank You Very Much Thursday.
The way it works is that you take out all your frustrations on people/things that peeved you off during the week and thank them in a very sarcastic way, for being who or what they are/doing what they did. I know everyone can use some free therapy, so go ahead and type yours out. Then head over to
The Daily Dribbles
and linkup.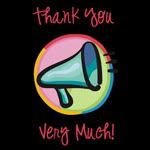 1. I would like to thank the company who promised us that my husband would have his transmission the begining of last week and we actually got everything yesterday...nothing like eight days late!
2. A special shoutout to the ants who have invaded our upstairs.
3. Dear Power Wheels, after I paid 400 dollars for a Jeep I didnt think it would break a year and half later. Thanks for the 150 dollar bill to get it fixed!
4. To the realtor, if you dont start emailing me back im going to fire you!
I really didnt have a bad week, just a few bumps in the road. Feel free to share your bumps.