Hop, Hop and a few more blog hops! Welcome to Life with the Grover's. Im so happy you desided to hop over and checkout my blog. Feel free to stay as long as you want, and if you like it here let me know. I would be happy to checkout your blog just leave me a comment.
My Little Life
- Five question Friday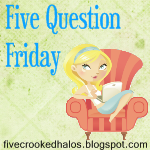 1. Take your pick...date night, girls night out, or night out alone?
Date night, or shopping trip alone.
2. Can you touch your nose with your tongue?
No
3. What is your favorite flower and why?
Daisy, its such a happy flower.
4. If you could go back in time, what advice would you give yourself?
Dont be in a rush to growup...have all the fun you can now because later you will have a lot more responsibilities.
5. If you won the lottery, what is the very first thing you would do?
Pay all debt, and then go on an awesome vacation!
The Girl Creative
- New Friend Friday
The Trendy Treehouse
- Follow me Friday
Hearts Make Families
,
Midday Escapades
,
One 2 Try
Thanks to all the blogs that put these hops on!