Its finally Friday! I am looking forward to Mother's Day how about you? Please feel free to checkout my blog and leave me a comment that you did and I will checkout yours! I cant wait to make so new blogging buddies!
My Little Life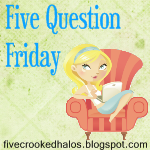 1. What is your worst memory of your siblings?
I have three sisters so there was a lot of fighting over things
2. What was YOUR naughtiest childhood memory? (Must be something YOU did, no pawning it off on someone else!)
I broke my moms cookie jar because I was mad at her! She still talks about it...I cant remember what the fight was about!
3. Where do you like to go to relax?
On a walk, or to the mall
4. What was the last thing you won?
I cant remember its been a while
5. If you could be on a game show, which would you choose?
I think it would be so fun to be on the Newlywed Game
The Creative Girl
One 2 Try
,
Midday Escapade
and
Hearts Make Families
The Trendy Treehouse
A special thanks to all the blogs that put these hops on.