Hello fellow bloggers! Thanks for stopping by Life with the Grovers! Feel free to stay and look around. Leave me a note that you are a new follower and I will swing by your blog and become a new follower! Happy Blog Hopping!!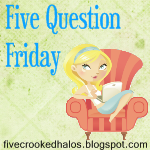 1. Have you ever had a celeb sighting?
Nope
2. What temperature do you keep your house?
70ish
3. Do you notice dust at other peoples homes?
Yes
4. What's the worst job you ever had?
Never really had a bad job, but I have had a couple bad bosses!!
5. What is your most sentimental possession?
Quilts my great-grandma's made, flowers from my wedding, family pictures