It's Friday Follow again!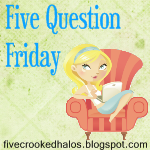 1. How much time do you spend on the computer a day?
A few hours during the day, and about one hour after I get off work...helps me become sleepy!
2. Will you pay for your children's college or raise them to pay for their own way?
Im going to try to do both. I had some help but did a lot on my own...and its really hard to work part time, go to college full time and still have some kind of social life.
3. Have you ever been in a car accident?
Yes three. The first one I hit someones back end while turning in the rain. Second one I was t-boned. Third I was hit in the back end while it was raining.
4. What is your favorite book?
I dont have one...sad I know but I am not a big reader of adult books...I read a lot of childrens books to my kids...I hope they like to read more than I do.
5. Do you make your bed everyday?
Nope...never have! But I do like the way a made bed looks.
Follow me and I will follow you!! Here are the blogs that make this blog hopping possible:
Midday Escapedes
One 2 Try
Hearts make families
The tready treehouse
The Girl Creative
My Little Life
Have fun hopping around!!